LOCATED DIRECTLY ON HERMOSA BEACH, COSTA RICA
This location gives you the unique opportunity of having a front row seat to some of the best surfing in Costa Rica!
These vacation rentals were custom built and designed to help you enjoy the beach all day long. You can also just sit on the veranda or the front lawn and watch your family or friends surfing.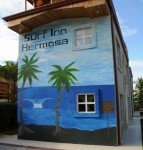 Easy to find: Our vacation rentals easy to find and can be accessed from the highway, just 3KM South of Jaco Beach in the Central Pacific zone of Costa Rica.
Capacity: Each vacation rental can sleep 2 to 6 people. There are two bedrooms and each has a queen bed and a bunk bed above it.
Our Vacation Rentals offer the following amenities:
Internet Router Hookup and Wireless Internet!
Three Air Conditioners – One in the Living Room and One in Each Bedroom
Solar Generated Hot Water
Cable Television
2 full bathrooms complete with glass block showers & marble counters.
Ocean front kitchens and living room areas.
Kitchen furnished with stainless steel appliances, refrigerator, microwave & gas cook top with an electric oven; and equipped with cookware, cooking utensils and dinnerware
There is a small pool nestled between the oceanfront units and the studios
The 2nd floor unit has a private balcony.
Dec 15, 2016 – April 16, 2017
Room Type

Floor Plan
Low Season
High
Season
# Available
Max. Capacity

Condo – 1st Floor

2 Bed / 2 Bath
$200/night. 2 night minimum.
$250/night.2 night minimum.
1 unit
6 per unit

Condo – 2nd Floor

2 Bed / 2 Bath
$200/night.
6 night minimum.
$250/night.
6 night minimum.
1 unit
6 per unit
Low Season Dates April 16th – December 14th
High Season Dates:
December 15th – April 15th
RATES ARE SUBJECT TO CHANGE WITHOUT NOTICE
Click here to make your reservation now!
For those who want meals included, surf tours and daily fitness activities:
We offer Yoga Fitness Packages and Surf Vacation Packages.